We all must have heard about green tea and its many benefits, maybe from a friend, colleague, or just in the advertisements. This amazing natural product is made by slightly steaming leaves of the camellia Sinensis plant. This was originally used as a medicinal product for thousands of years. Let's read some benefits of green tea for the skin.
Benefits of green tea for skin
It provides you with immense benefits, starting from boosting brain functions, weight loss and giving you a healthy mind. Moreover, this natural product helps you clear your skin and gifts a natural glow. Because of its exquisite properties, It is used as an important ingredient in many beauty products. There are many benefits of green tea for the skin.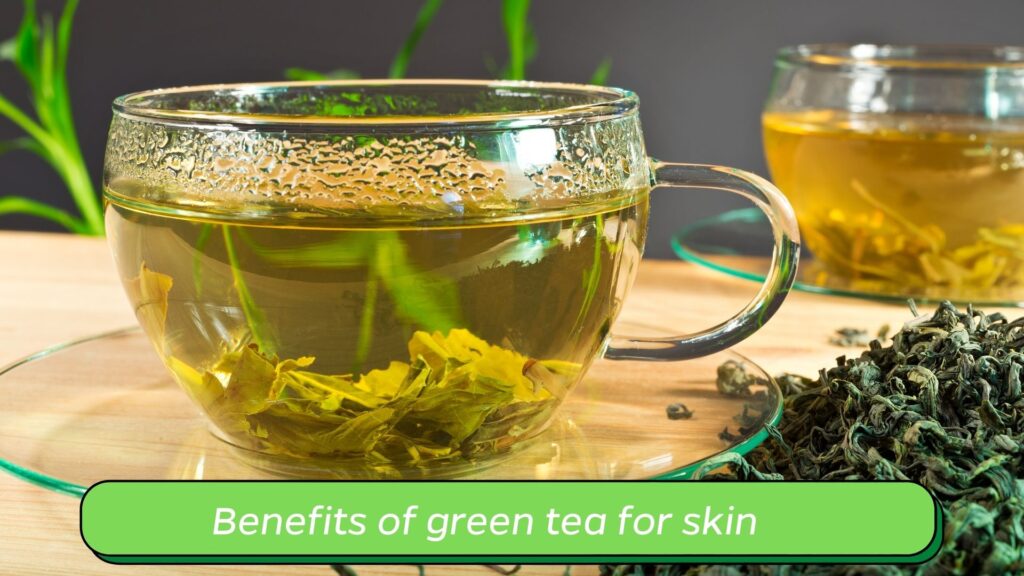 Given below are the important characteristics of Green tea :
Avoiding Premature Aging:
Several studies state that green tea has features to rejuvenate the skin thus helping you take care of your skin. It also helps in repairing the skin cells. This will protect your skin from ageing, it will make your skin look healthy and fresh.
Since vitamins are the best solution for all skin issues, it has vitamin B-2. Since vitamin B-2 helps to maintain collagen levels and thus helps you look younger and gift you healthy skin. It also gives you smooth and shiny skin.
Reduces irritation:
Green tea contains polyphenols, that has anti-inflammatory properties. This will help you reduce any skin irritation, swelling and skin redness. After that, You can apply it to your face to get amazing results. This will make your skin smooth and shiny by soothing sunburn or minor cuts. Tropical ones are proved to be the best remedy for many dermatological situations. It can also be used to treat itching and skin irritation.
Treats pimples and acne :
The anti-inflammatory and antioxidant properties of green tea will help you cure your pimples and acne too. Giving you clear and healthy skin. This is very productive for oily skin. It reduces sebum secretion, thus avoiding the possibility of acne. You can get rid of any infection too, which helps cure infection effects. It will have a check on the bacterial growth that will cause acne on the skin. This is one of the most important benefits of green tea.
Moisturize the skin :
Drinking green tea will keep your skin hydrated and radiant. Your skin will be naturally moisturized. Vitamin E hydrates your skin thus giving you a great glow. Eliminates skin roughness and keeps the skin looking fresh and healthy.
How to apply Green tea on the face?
Now you must have seen several videos or heard talking to your friends about green tea face masks. It is one of the most important sources to provide you with glowing skin and immunity. It does wonder when applied as a mask.
Given below are the ingredients used to make a green tea mask and it is simple and easy to find in your kitchen as well. If you are looking for an answer that
How to apply green tea to your face? Here it is
1 tbsp of Honey
1tbsp of tea
1 tbsp baking soda
Measuring spoon
Mixing bowl
Water
Towel as well
Now all you need is to follow the ingredients and make your green tea mask :
You need to brew one cup of green tea and allow it to soak for one hour. Now teabags need to be cooled, separating the green tea after breaking the teabag open.
Now keep the leaves in a bowl, baking soda and honey will be added to create a paste. In case the mixture appears to be too thick, you need to add some water.
Your face should be cleansed before you apply your green tea face mask. This will help your face to penetrate your face pack into your face.
Now that your face is clean, you need to apply the mask evenly over your face. This process is carried out with a gentle massage. Since This is done to remove any dead cells and dirt sticking to your face.
Keep the mask for 10 to 15 minutes and then rinse off with warm water.
Therefore, For amazing results, you need to apply the mask 1 to 3 times a week.\
Apply Green Tea to your face
These are the best mask that you can prepare at your home. This is the best way to keep your skin hydrated, clean and smooth. Now that you know How to apply green tea to your face, you can prepare it easily, providing you with many benefits. All the properties that it carries are full of skincare qualities. You can follow these  Benefits of green tea for skin to get glowing young skin.       Read More:- Benefits of Chia Seeds
Green tea is the best natural detox that we can easily fetch and consume. This is not costly or rare to be found, you can get these packets in any shop or small market. This is very easy to carry, you can carry it to your workplace and also to any small gathering or trip.