Hair fall is the most common problem these days. Doesn't matter if you are a youngster or in middle age or old age, everyone is facing the issue of hair fall. In our day-to-day life, where we are bound with office work, cooking, and looking after our loved ones. We seem to ignore to care about little things in our lifestyle and that causes the hair to fall. We often wonder why this is happening and How to regrow hair naturally home remedies. Since using any medicated product can put your hair to exposure and can cause more damage.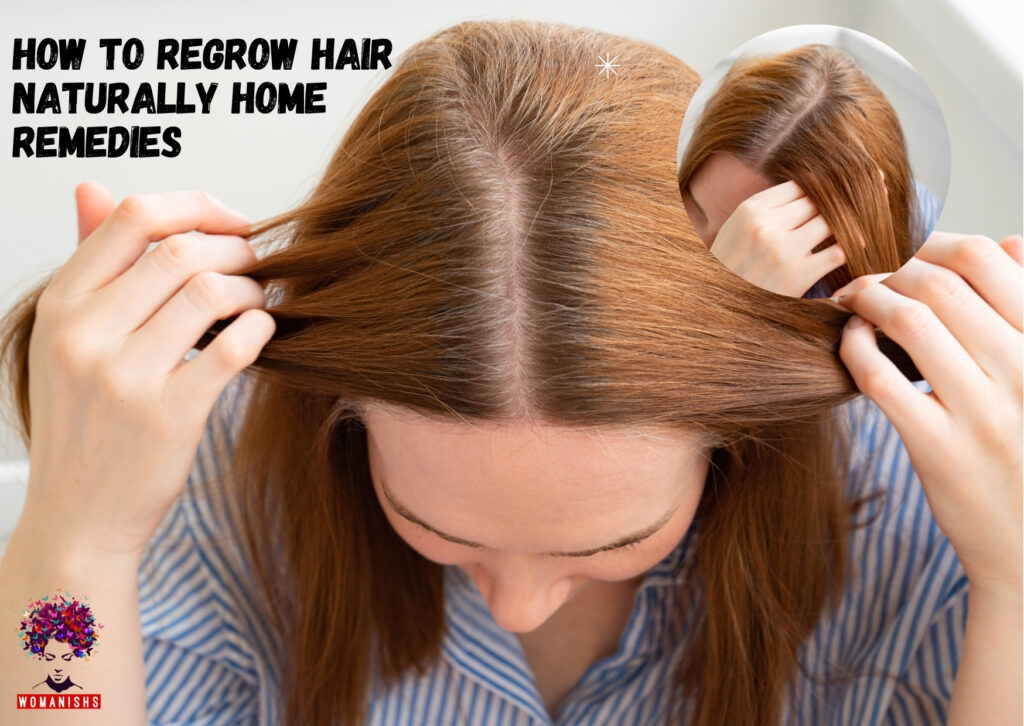 How to Regrow Hair Naturally Home Remedies
Follow these awesome natural remedies to get gorgeous hair and get rid of the hair fall forever :
Aloe Vera
Aloe vera is a rich source to treat damaged hair, bring shine and stop hair fall. It conditions your hair and makes it less oily. Applying aloe vera to your scalp can also eliminate dandruff and makes your hair strong by the roots. You need to apply aloe vera to your scalp and massage gently. Carry on this for a week or two for the best results.
Fish Oil
This is the most effective natural method to get shiny hair with no hair fall. Since fishes are rich in omega fatty acids, proteins, and nutrients, they provide your hair with enough nutrition to help it get strong and thus causing less hair fall. Consuming omega supplements can improve your hair quality and make your hair thick and give volume. These omega fatty acids can also boost your immunity.
Coconut Oil
This oil is used over the centuries to get amazing long hair with great shine. Coconut oil can be applied to the scalp before or after your hair wash. You need to apply the oil to the scalp and massage it for 10 to 15 minutes. Then leave it for at least 2 hours and then wash it. Doing this will improve your hair quality and make your hair strong and reduced hair fall. You can carry on this process for one week or two for awesome results.
Onion Juice
We have seen many good brands promoting onion shampoo or conditioner. This is because it is the best treatment to give your hair a smooth and strong texture. Along with reduced hair fall. This is one of the best and easiest ways to get awesome hair right from home. All you need to do is grind 2 or 3 onions, depending on the length of your hair. Then filter it and apply the juice on your scalp, followed by massaging for a bit. This will reduce your hair fall and give you shiny hair. The only thing is you need to bear the onion smell, though it will be worth bearing at the end of the day. This is the cheapest and most effective method to reduce your hair fall.
Lemon Juice
Lemon is very easy to find at home and less hectic to prepare the juice as well. Squeeze fresh lemons and apply the lemon juice to your scalp. The citric juice will eliminate dandruff and enhance hair growth, followed by a reduced hair fall rate. It is very easy to apply and then washes your hair. Continue this process once or twice a week to get amazing results.
Massage
In our hectic schedule, we often forget to pamper our hair and that causes high hair fall and entanglement. You need to massage your scalp, you can pick any comforting oil and start massaging. This will stimulate your scalp, relieving stress and thus relaxing your hair roots. Massaging will encourage hair growth and thus making your hair strong. You can take time in a week and then massage your scalp, this will prove very effective for your hair growth and reducing your hair fall.
Consume Protein
Since protein is needed for hair growth, thus making it very essential for you to have a daily intake of proteins. You can add protein into your diet in any form such as seeds, nuts, beans, fish, eggs, etc. You can make a chart for the daily protein intake by looking at your schedule and the number of physical exercises you do. Eating proteins carrying food will help you reduce hair fall and make your hair stronger.
Egg White
You can apply egg white to your hair to reduce hair fall. Egg white is rich in nutrition and thus gives your hair a shiny and strong feel. This will increase your hair volume too. You can apply egg white once or twice a week for the best results. How to Regrow Hair Naturally Home Remedies.
These are the most essential and effective methods to answer your question: How to regrow hair naturally home remedies and thus making your hair look strong and beautiful. Please note that these are a natural process and since the great effects are going to stay it takes time. You have to be patient with the process. You need to be consistent with the methods too. You can choose any of the methods that you find will be easy for you and start your hair treatment right from your home.