With changing technology, we have always seen some amazing inventions. Right from smartphones to smartwatches. And one such is speakers. There are multiple types of speakers which give us the joy of listening to music wholesomely. But as said already this generation requires something new, exciting, and smart. Hence, for this, we discovered the solution of Bluetooth speakers. There are various varieties of Bluetooth speakers, having various features at varying price ranges. Some of these features include versatile probability, water resistance, rechargeable battery, visual effects, and a lot more. But, to have all of these at an affordable price range is pretty difficult. But, not impossible. So, today we will be knowing some of the best smart speakers under $300.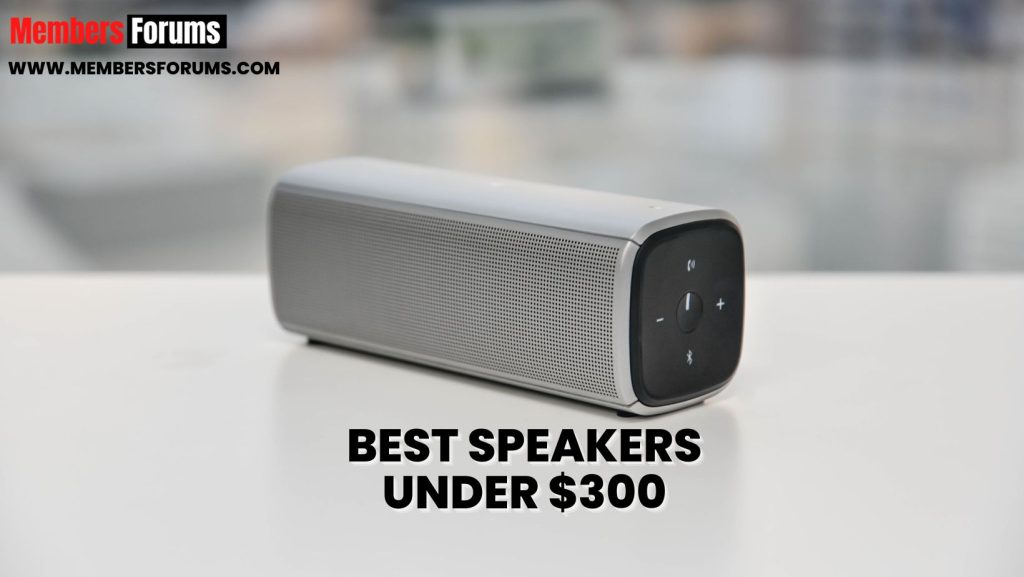 Best Speakers Under $300
1. Logitech Ultimate Ears Boom
 One of the best features is the sound quality. Here, the mini-pillar of the speaker blasts sound in 360 degrees. And that too very friendly, implying it can be kept at any counter of the room filling the whole room with music. Furtherly, it comes with the feature of wireless volume adjustment as well as being compatible with smartphone volume as well. Then, it also has fine layers of durability coatings. Thereby providing resistance from water and spill. You can also connect two booms and then transmit the same sound. And you can get all of these at just $179.
Find out the list of best wireless headphones
2. Beats Pill Xl
The beats pill XL is stopped for many Bluetooth lovers. Since its launch to this period, the company has made serious improvements. One of the biggest advantages of choosing this speaker is the battery life. It provides a life of 15 hours of rechargeable battery life and comes with a visible battery gauge that shows you how much battery is left. As well as comes with tap technology. This means when you tap your phone with the speaker then the Bluetooth connection is initiated. Adding to these two pills can be connected at the same time and you can stream the same music. Now, coming to the price this pill costs just $269.95.
3. Creative Sound Blaster Roar
This roar speaker lines up with NFC technology to connect with mobile phones and gives only one pair benefit. Talking about the shape of the speaker it is boxy where the speaker houses five drivers and two amplifiers. This speaker is way superior to all the other speakers in terms of its speakers. Implies it has its internal MP3 player, a voice recorder, siren, and other different modes depending upon the mood. You can also compare it with 4-way vs 2-way speakers to ensure you're getting the best music. So, to sum up, in one line this amazing feature just costs $149.99.
Other Renowned Speakers Within $300
Sharkk Boombox Nfc Speaker
If you are an iPhone user, then this speaker is the best choice for you. It is a 10W speaker which comes with extra benefits, especially for an iPhone user. Talking about the battery life, it's just commendable with 18 hours of use on a single charge. This speaker also comes with a "subwoofer" sound effect providing an extra emphasis on the base. Furtherly, some of the other features of this speaker are it gives a mic especially for taking phone calls, and a light sensor that just illuminates the buttons automatically when the speaker is in a darker environment. And above all, it's very eco-friendly which just costs $63.
Bose Soundlink Mini
We have known Bose for its amazing sound quality. Where sound link mini is undoubtedly the best produced under Bose. It offers you high-fidelity sound weighing just 1.5 pounds. Implying you can tote wherever you want. But, coming to the point of battery life, it just remains active for 5 hours on one charge. So, to combat this issue, Bose has come up with multiple charging options such as a USB connection, a cradle, a plug, etc. It also offers customizable covers for protection and personalization. Thereby making it available to you at just $199.
Therefore, to conclude it can be said that there are speakers available at an affordable price range including all the features which you want. But, go through all the options first and then make your choice of purchase.