Hair care have a long way with evolving technologies creating on go product for all types of hair problems. But the problem comes in our way when its hard to understand which product is good and actually apt for our hair type. So here is a list of the 7 best serum for hair straightening.
Best serums for hair straightening. 
BIOTIQUE MOUNTAIN EBONY VITALIZING SERUM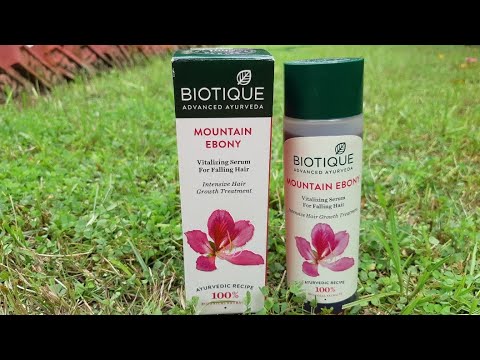 Many people face a common issue of hair fall. If you are one of them, this product is just for you. This is an Ayurvedic formula, made with 100% botanical extracts, enhances strength and overall health of the hair. It prevents hair fall. Few drops of this serum is all you need to let your hair speak volumes. The vitalizing serum also helps to keep your hair shiny and healthy. It is a very pocket friendly item. It is one of the best serums for hair straightening.
L'OREAL PARIS TOTAL REPAIR 5 SERUM
You don't have time to search for the serum fit with your hair problem then you can buy this serum. It instantly smoothens and nourishes hair. This serum helps protecting the hair, repairs it, nourishes it, smoothens and strengthens it. It is practically one stop for 5 hair solutions for all hair types. This product can be bought in very reasonable price.
STREAX PROFESSIONAL VITARICHE GLOSS HAIR SERUM
According to few surveys customers are using it for more than a year now and they love the results. If you are facing problems of frizzy hairs then put few drops of it evenly on your hair and then comb your hair to get the shiny glossy frizz free hair. It worth buying.
GIOVANNI ORGANIC STRAIGHT FAST! HAIR STRAIGHTENING ELIXIR
Worried about all the chemicals loaded styling products causing harm to your hair? Try this certified organic gel which only end you doing best for your hair. The gel also temporarily straightens hair until your next wash. This is perfect for all types of hair and keeps the hair sleek. It also smoothens the curls, relax the waves and control even the unruliest of hair.
LIVON SUPER STYLE HAIR SERUM FOR WOMEN & MEN
Don't have much time to put on hair but still need sleek shiny smooth hair at one go. You should absolutely go for Livon Straightening Serum. you don't need to do shampoo for using this. Just spray on normal hair, then give it a minute to dry and you can style your hair in any way with your straightener. This is a revolutionary product which is infused with heat activated protein that binds with your hair polymers to form a protective layer.
WELLA PROFESSIONALS SP LUXE OIL PRECONSTRUCTIVE ELIXIR FOR KERATIN PROTECTION
This do-it-all serum is essentially a bottled promise of shiny, strong and silky hair. It offers complete keratin protection transforms dry, brittle hair into salon style silky strands without weighing them down.
MATRIX BIOLAGE SMOOTHPROOF DEEP SMOOTHING 6-IN-1 SERUM
Does your become unmanageable within few hours of shampoo, then try this 6-in-1 serum to get your hair back to life with glossy frizz free hair. It suits every hair type. Unlike most of the serums this is non sticky. It protects from heat styling and humidity protection. It is so uniquely advanced that it leaves the hair feeling light and clean and totally under control.
Each of the serums are unique and effective.  With these at home, there will be no more bad hair days. You can style your hair in different ways and care less about the hair getting damaged or unmanageable. So from the above mentioned list choose the suitable best serum for hair straightening, according to your hair type.