Oatmeal benefits for the skin
Though we consider oatmeal as a regular staple diet in our lives. But, don't just set a limit for eating oatmeal. Because it has a lot of skin benefits hidden in it. Adding oatmeal to your skincare treatment and skin regime will prove to be 1000 times more worthy than any other cosmetic product. So, here's listing down some of the oatmeal benefits for the skin.
Top 10 Oatmeal benefits for the skin
Moisturizes skin
One of the top most credit that oatmeal does to the skin is that it moisturizes the skin.
Oatmeal is rich in proteins and vitamin e. And we know how much vitamin e is essential in treating the skin. From reducing inflammation to making your skin look younger, it does it all. So indirectly oatmeal does this work and makes your face more glossy. Adding to this, it protects you from any sort of irritation as well.
As already said above, oatmeal provides relief in case you are suffering from itchy skin. It contains antioxidants and anti-inflammatory properties. Thereby, providing you instant relief from any sort of rashness and redness.
Remember as a child when you suffered from chickenpox. Then definitely you have been soaked at least once in oatmeal water. It also helps children who are suffering from eczema.
it's a proven fact that you need to scrub your face at least twice or thrice a week. And that too with oatmeal.
How to use an oatmeal pack?
Using an oatmeal pack with some lemon and honey in it will make your skin smoother, and softer. It will also remove all the dirt and oil. So, try this pack and gently scrub all over your face and neck to remove all the dirt and impurities.
Read More:- How to remove spots from face in 2 days naturally
Oatmeal acts as a shield in protecting your face from any harmful ultraviolet rays and other toxins. Such a meal contains flavonoids.
What are flavonoids?
Flavonoids are bodily compounds that help you to perform more effectively and efficiently as well as protect you from any grey chemicals and toxins. But, do not forget to apply sunscreen. As they are not a good substitute for sunscreen.
Since oatmeal contains saponins, mainly a group of carbohydrates found in plants. They help you to cleanse your skin more efficiently. But at the same time oatmeal does not strip out the natural oils and essence from your face. Neither does it dehydrate your skin. It just removes the clogged pores of dirt and impurities.
in case, if you are suffering from any sort of age marks, dark spots and other acne scars then try to use an oatmeal pack. Using this will improve your skin complexion. Thus, making it brighter. It also reduces and fades away acne scars and other dark spots.
Excess oil is the root cause of acne and major breakouts. Try to use oatmeal packs and scrub as much as possible daily. Because we all know that oatmeal is an absorbent. And it eventually soaks up all the excess oil buildup.
OatMeal for skin is best solution for skin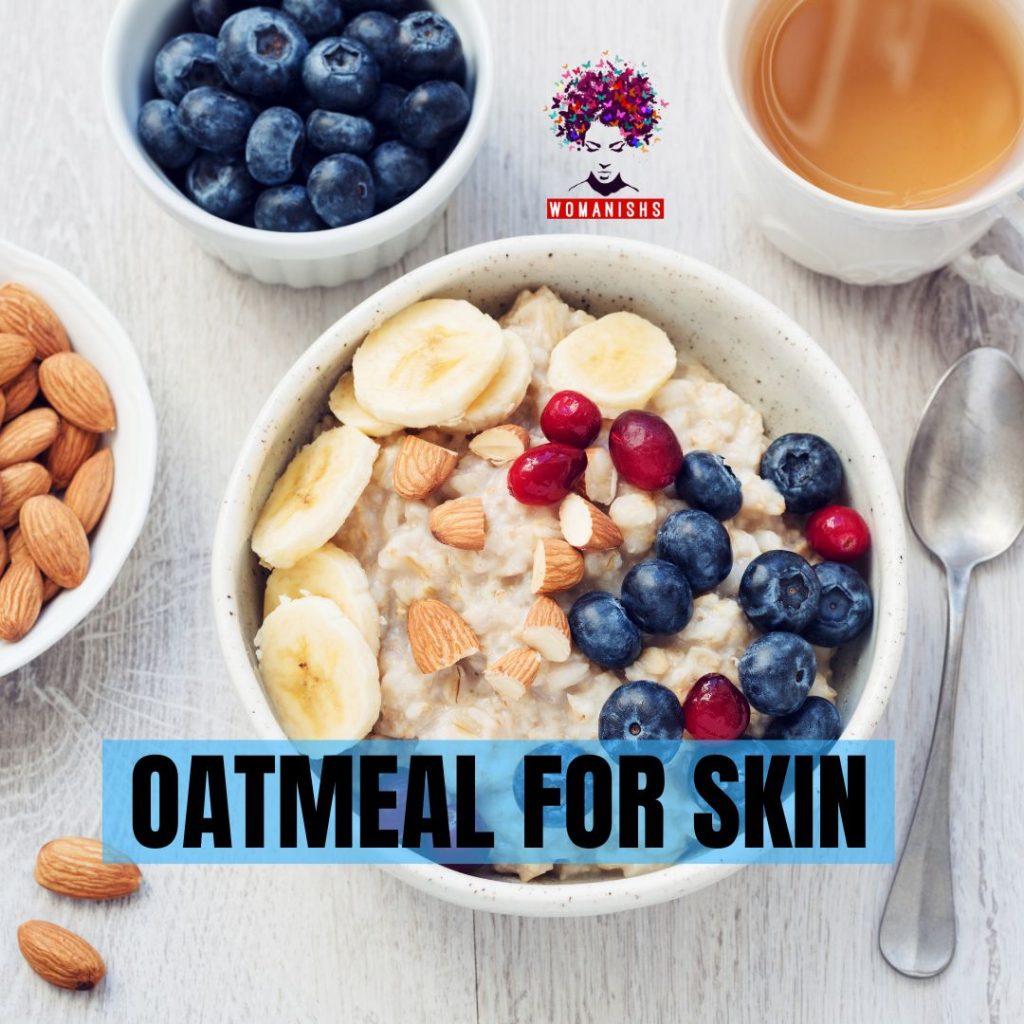 Increases collagen production
collagen is nothing but a protein element that is produced by the body itself and gives you a plump, youthful look to your skin. It acts as the main element in many expensive beauty products. And guess what! Oatmeal has that. Oatmeal has all sorts of antioxidants that will boost up the production of collagen thereby giving you a glowy look.
Reduces skin inflammation
it's a natural product with many skin soothing elements. It reduces inflammation caused by any part of your body. It gives you a cool, fresh feel which provides you relief from your serious redness and inflammation.
using oatmeal packs nourishes your skin deeply. Not only does it moisturize your skin but also makes your skin breathe. Provides hydration and radiance to your skin. So you can apply this paste wherever you want to.
Therefore to conclude, just like turmeric oatmeal also has tons of medical properties in it. Try to make most of it. Not only in consumption but also including it in your skin regime as well.