Cardamom popularly known as elaichi (spice ingredient) has prevailed in the Indian kitchen for a very long and is used generally in curries, rice dishes, and desserts. The aroma of this spice ingredient not only gives a fresh flavor to the dishes but also makes them healthier. Cardamom has some important oils that are known to make your health better. Moreover, cardamom owns antioxidants and antibiotic attributes. If you have to list down the benefits of cardamom then it will be plenty.
This Indian spice ingredient is full of health-benefiting properties. Though it has many health-benefiting qualities, have you ever imagined cardamom for a weight loss program? Controlling health issues like indigestion, water retention, and constipation, cardamom makes for an essential weight loss spice. It is suggested that one of the best ways to restrain such conditions is to drink cardamom water regularly. So now we will tell you how you can use cardamom in your regular drink to get the maximum result.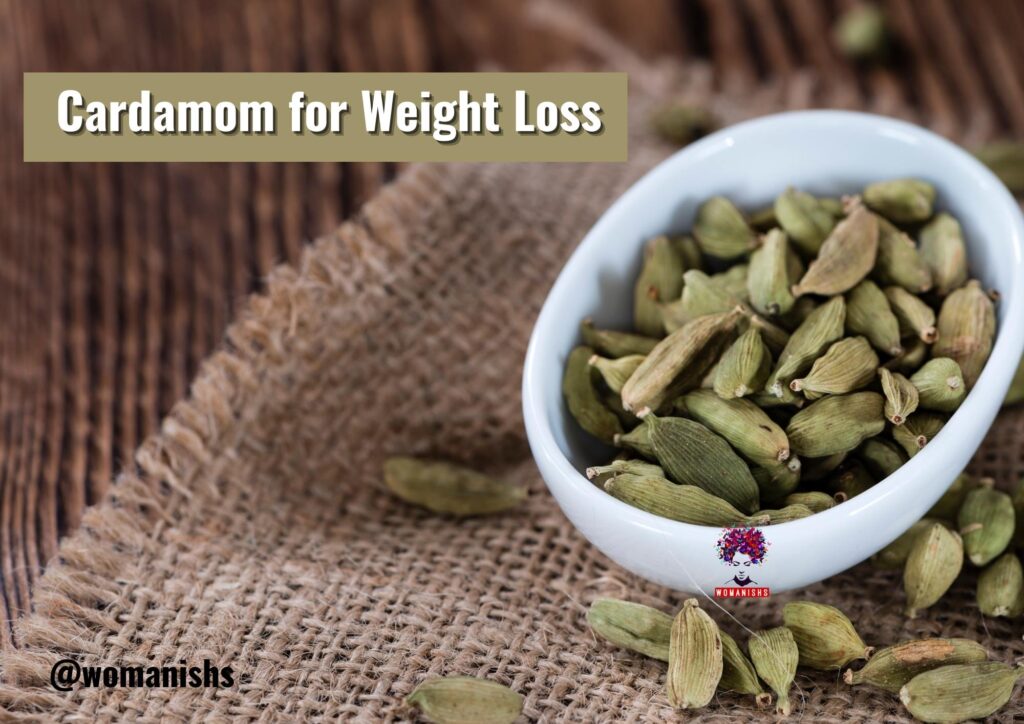 Use Cardamom For Weight Loss
Cardamom Water
First, crush the cardamom pods and take out all the seeds from them. Now take a glass of water and add the crushed pods and the seeds. Instead of the crushed cardamom pods, you can also use cardamom powder. After adding the cardamom to the water, leave it as it is for the whole night. The next morning after waking up the first thing that you will do is to drink that water on an empty stomach. After drinking that cardamom water tries not to drink or eat anything for at least half an hour. Drinking cardamom water regularly can give you the utmost benefits.
Cardamom Tea
Boil cardamom with other Indian spices like peppercorn, cloves, and cinnamon stick for a few minutes. Pour the tea through a strainer onto the spice mixture. To get a better taste you can add milk, a little bit of sugar, or honey and drink it warm. This spiced-up tea along with milk and honey tastes way better than your regular tea. If you are health conscious then you can avoid adding sugar, or both milk and sugar, and just drink the warm spiced tea. Regular drinking of cardamom tea will give a fresh taste in the morning and also there will be full utilization of cardamom for weight loss.
Cardamom Milk
We all prefer flavored milk rather than regular milk. Kids specially throw lots of tantrums when they have to drink their plain, boring milk. There are several ways to make your regular drink a bit interesting but also at the same time it will healthier and tastier. We must have all tried adding badam (almond), pista (pistachio), Kesar (saffron), haldi (turmeric) in our regular milk to get a better taste and we loved it also. To your surprise cardamom (elachi) drink is another great option to skip the regular plain, boring milk and it can also be a part of your weight loss diet.
To prepare cardamom mil, boil the raw milk beforehand and keep it as storage. The proportion will be 2-3 crushed cardamom pods for one glass of milk. Now pour one glass of previously boiled milk into a pan and heat it. Now add the crushed cardamom pods and a few strands of saffron and let the milk simmer for about 4-5 minutes, so that all the flavors of the spices can blend well in the milk. Strain the warm milk and enjoy your tasty and healthy drink. If you want your drink to taste sweet, then you can add natural sweeteners like honey, agave, coconut sugar, or jaggery.
Cooking with Cardamom
Adding cardamom while cooking food helps to bring the health benefits of this ingredient. You can add cardamom to kala chana, paneer sabzi, or other curries to enhance the flavor of the dish which can be the complete use of cardamom for weight loss.
Read More:– Best Protein Shake Recipes
Why Should You Choose Cardamom for Weight Loss?
Here are a few reasons that will assure you to choose cardamom for weight loss.
Cardamom or elaichi is a popular spice ingredient that helps to reduce bloating or indigestion. It has some energetic compounds that help to fight against bacteria, additionally balancing the gut flora. It also stabilizes regular digestive functioning.
Cardamom contains melatonin that speeds up the burning process of fats in the human body.
The best benefit of cardamom is that it helps to reduce the extra water from your body that is being stored in your body in the form of urine.
Most people are concerned about their belly fat which can lead to several health problems. Cardamom water helps you to get rid of that extra belly fat and reduces the bulge in the abdominal region.
We hope you have understood all the health benefits of cardamom, but only having cardamom water will not be enough. You just need to continue some vigorous exercise to lose weight.
The Bottom Line
Yes, the use of Cardamom has proven to be extremely beneficial for people who want a regular healthy lifestyle. Their many uses concern individuals for weight loss and also many other health benefits such as clear skin, wellness, gut, etc.