The spice holder of your kitchen is incomplete without turmeric. It is used in almost every sort of cuisine. Other than using it in cooking turmeric has many medicinal values and is also useful for producing skincare products. According to Ayurveda turmeric is one of the main ingredients in skin whitening products. We all are aware of the beneficial properties of turmeric but unaware of the facts that how to use turmeric for the skin. In this article, we have discussed a few remedies that will answer your question "how to use turmeric for skin?"
5 ways to use Turmeric on Skin
Turmeric Milk for Healthy and Youthful Skin
Turmeric and milk together make a great combination to fight against the surplus radicals that damage our skin. Milk contains Alpha Hydroxy Acids that help in exfoliating the dead skin and makes your skin moisturized and healthy. By mixing one teaspoon of turmeric powder and two teaspoons of milk you can easily prepare a fine paste of turmeric milk. Apply the turmeric milk all over the face and neck and keep it for a few minutes to let it dry. Then rinse it with cool water and get a glowing and younger-looking skin.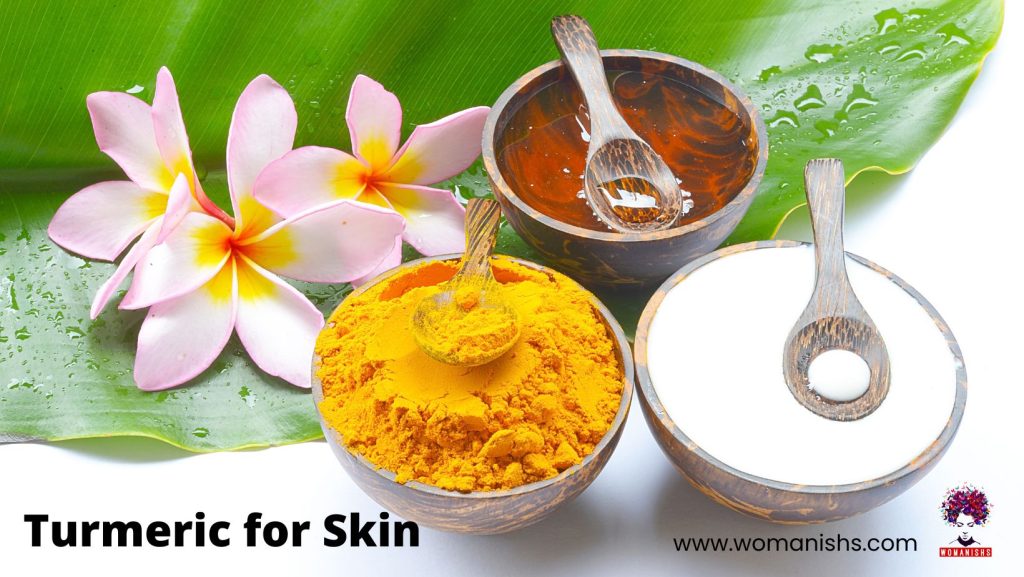 Turmeric and Mustard oil for Pigmentation
To your surprise turmeric is a helpful solution for vitiligo. Vitiligo is a skin issue where the pigment is lost from a few areas of your skin which will cause white patches in your skin. If you can apply the paste of turmeric and mustard oil then it can help in the reduction of pigmentation. To make that paste mix ½ teaspoon of turmeric powder and a few drops of mustard oil. Apply the paste of turmeric powder and mustard oil to the pigmented area, keep it for 20 minutes and then wash it off. It is suggested to repeat this method for twice a day to get positive outcomes.
Is Turmeric Good for Your Skin?
Turmeric and Lemon for Light Skin Tone
Turmeric helps in glowing skin, and lemon juice contains bleaching properties so together they make a great combination to lighten up pigmentation and help to reduce skin discolouration. Lemon contains citric acid that helps to clean the pores that get blocked by excess sebum, sweat, germs, and dirt. Mix one tablespoon of turmeric powder and a few drops of lemon juice to make a smooth paste, and apply this paste with a makeup brush all over your face and neck. Keep the paste for 5-10 minutes and then wash it off with warm water and use a clean towel to pat dry your skin. If you can apply this mask regularly you can get obvious results.
Curd and Turmeric for Glowing Skin
Curd is helpful as it can give you glowing skin, and it is suitable for every type of skin. Fuller's earth contains cleansing, antiseptic and oil-absorbing properties and also helps you to maintain the softness of your skin. To make the paste add one teaspoon of turmeric powder, one tablespoon of curd, one teaspoon of fuller's earth, one teaspoon of sandalwood, and one tablespoon of rose water. Apply the paste, keep it for 15 minutes, and rinse it off the cold water. Once a week, you can apply this mask for your desired results.
Turmeric and Honey for Nourished Skin
Turmeric and honey together will give you glowing skin and will keep your skin moisturized from the inside. It can also help in reducing acne marks. To make a smooth paste, you need three ingredients – turmeric powder, milk, and honey; and all of these will be ½ tablespoon. Apply the mixture all over your face and neck and let it dry for 10-15 minutes. Later clean it with lukewarm water and pat-dry your face with a clean towel.
Read more:- Benefits of cucumber water
We hope with the above-mentioned remedies you will get the idea of how to use turmeric for skin, and it will help you to get glowing and well-nourished skin.