Food for glowing skin in a month
Do you want to have glowing skin in a month? Do you think it is good for skin glow?
Well! You must know that healthy skin always comes from the inside. Making use of skincare products might tackle your problems at the surface level, but when you eat a well-balanced diet, it gives the health of your skin a boost and makes it glowing and shiny.
If you want to have healthy and glowing skin, then you should consume a wide range of nutritious foods and decrease intake of those foods that are unhealthy, like processed and deep-fried foods. Food for glowing skin in a month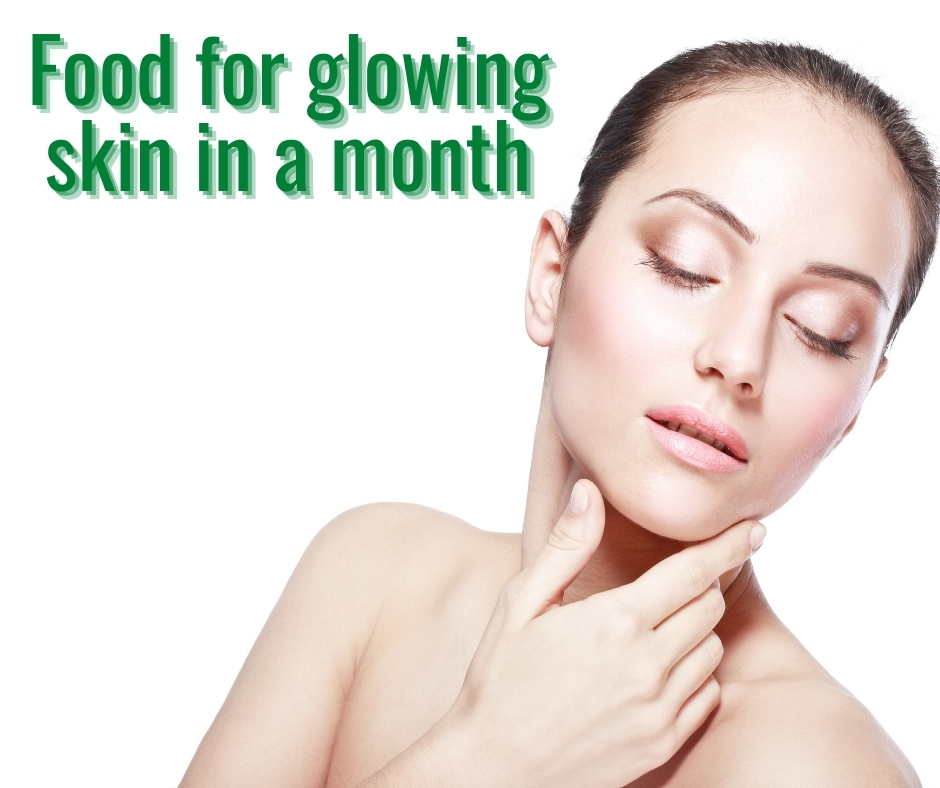 Here are some of the best foods for skin repair and skin glow:
Fatty fish: Some fatty fish like salmon and mackerel are the b est source of omega-3-fatty acids that assist your skin in having a supple and radiant look. They can also decrease inflammation, pimples and toughen your skin against the harmful UV rays. Rich in Vitamin E and antioxidants, fatty fish helps protect your skin from all kinds of irritation and radical activity that usually makes your skin age fast. Furthermore, fatty fish is also rich in protein and zinc, which strengthens your skin and helps in enhancing new skin cell production.
Avocados: If you are thinking which fruit is good for skin glow then you must know that avocados are a source of healthy fats that assist your skin in staying moisturized as well as firm. They are also a rich source of vitamin C and E. Some of the vital nutrients that your body requires for supporting healthy skin and fighting against free radical formation are also present in Avocado.
Best foods for Skin Repair
Biotin, which is a B vitamin that is present in Avocado, helps in promoting healthy skin and hair. When there is a biotin deficiency in your body, it can develop several skin issues like rashes, psoriasis, itchiness, and dermatitis.
Sweet potatoes: When you think of sweet potatoes, you might think of your favorite desserts and pies. But do you know that this root vegetable is your skin's best friend? It is rich in vitamin C and E, both of which help in giving glowing skin. Vitamin C also assists in collagen production that helps in keeping the signs of aging away. You can get the maximum benefits by boiling or steaming the sweet potato. It is one of the best foods for skin repair.
Walnuts: All nuts are snacks filled with nutrients. Walnuts are rich in vitamin E, Zinc, Selenium, and vitamin C, all of which helps in promoting healthy skin. Yes, Walnut consist of a high amount of omega-three and omega-six fatty acids compared to other nuts, thereby making them one of the best choices when looking for best foods for skin repair. But it is vital to keep the nut intake per day to one handful. When you eat it in excess amounts, it leads to weight gain.
Read : Food for glowing skin in a month
Eating more than the recommended amount of walnuts can also cause many individuals' adverse effects like bloating, skin allergies, and stomach pain.
Sunflower seeds: Seeds along with nuts are one of the healthy choices that give a boost to your skin health. It's mainly contain a lot of vitamin E, zinc, and selenium. Sunflower seed oil is also a good source of linoleic acid and some required fatty acids that your body needs for supporting healthy skin.
Prepared tomatoes: If you want bright and young skin, then cooked tomatoes are one of the best options. Although many people stick to raw tomatoes as an essential part of their skincare routine, cooked tomatoes are the best choice. It contains the magic nutrient lycopene that helps combat loose skin, fine lines, and wrinkles. But before you eat tomatoes, make sure it has no added preservatives, sugar, or salt.
Food for Glowing Skin
Turmeric: If you are attempting to revive the glow in your skin, include turmeric in your diet. The antioxidants help in protecting the skin cells against all damages and fight against pimples and redness. Turmeric does wonder when the matter is about delaying the signs of aging. But you need to buy only pure quality turmeric because adult turmeric contains synthetic colors that might stain and harm your skin.
Spinach: It is a food that is a good source of vitamin A, C, and K that helps make your skin radiant. It is rich in antioxidants that fight off all skin issues such as inflammation and breakouts, and it assists your body to cleanse your body from the inside. It also delays the sign of aging and serves as a natural sunscreen. Include these best foods for skin repair.
To use the spinach in its best way, make sure you eat it with other vegetables as spinach contains oxalic acid, which means your body cannot absorb its nutrients.
So, these are a few foods that give your skin a shiny glow. Besides all these, you should drink a lot of water and maintain proper hygiene.